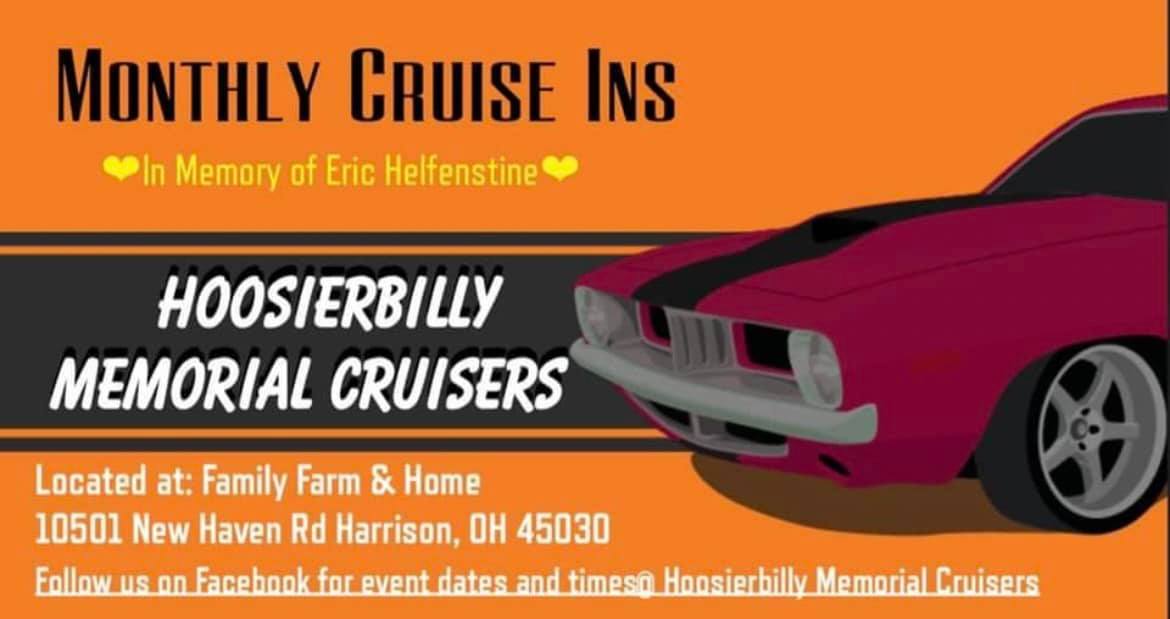 Hoosierbilly Memorial Cruisers OPENING NIGHT CRUISE IN!
4/8/22 7pm-9pm @ 10501 New Haven Rd Harrison, OH ( Family Farm and Home Store Parking Lot )
All vehicles welcome! Free monthly event!
A few updates and reminders about our Cruise Ins:
– Cruise Ins will take place the SECOND FRIDAY of every month. Weather permitting.
– Cruise in starts at 7 pm and goes until 9 pm.
– Held in the parking lot of Family Farm and Home in Harrison, OH @ 10501 New Haven Rd.
– Any and all vehicles are welcome.
– No entry fees.
– No trophy's or awards.
– FREE for everyone. Enjoy good times, good friends, and awesome cars!
– You are responsible for all of your own belongings. WE ARE NOT.
– Be sure to clean up after yourselves. Please be respectful of the parking lot we are generously being allowed to use.
– You're welcome to bring pets, chairs, tents, food, drinks, and coolers.
– We will not tolerate any drama about anything WHAT SO EVER. You will be asked to leave if you are causing any issues with anyone or any of the vehicles. If refused, authorities will be involved.
We hope everyone is excited to get these Cruise Ins started again. It's been a long winter and those cars need to get out and stretch their legs! With that being said, unfortunately The Chevelle will be parked in the garage for quite some time. At the end of our season finale in October, we ran into some issues with the Chevelle and have been unable to get them fixed. It saddens us that it will not be at the Cruise Ins until it is fixed. We will still bring our signs and photo boards of Dad ( Eric Helfenstine ) to remember who started these to begin with!
I am working on some new flyers to be handing out and posting around town to spread the word but I could still use all of your help! Share the Facebook page, photos of the cruise ins, and events that we will be posting soon to get more people and cars down to our show!
We look forward to a great Cruise In season and can't wait to see everyone and all of the cars. If you have any questions or concerns, please reach out via message to the Facebook page.
-The Hoosierbillys Daughter