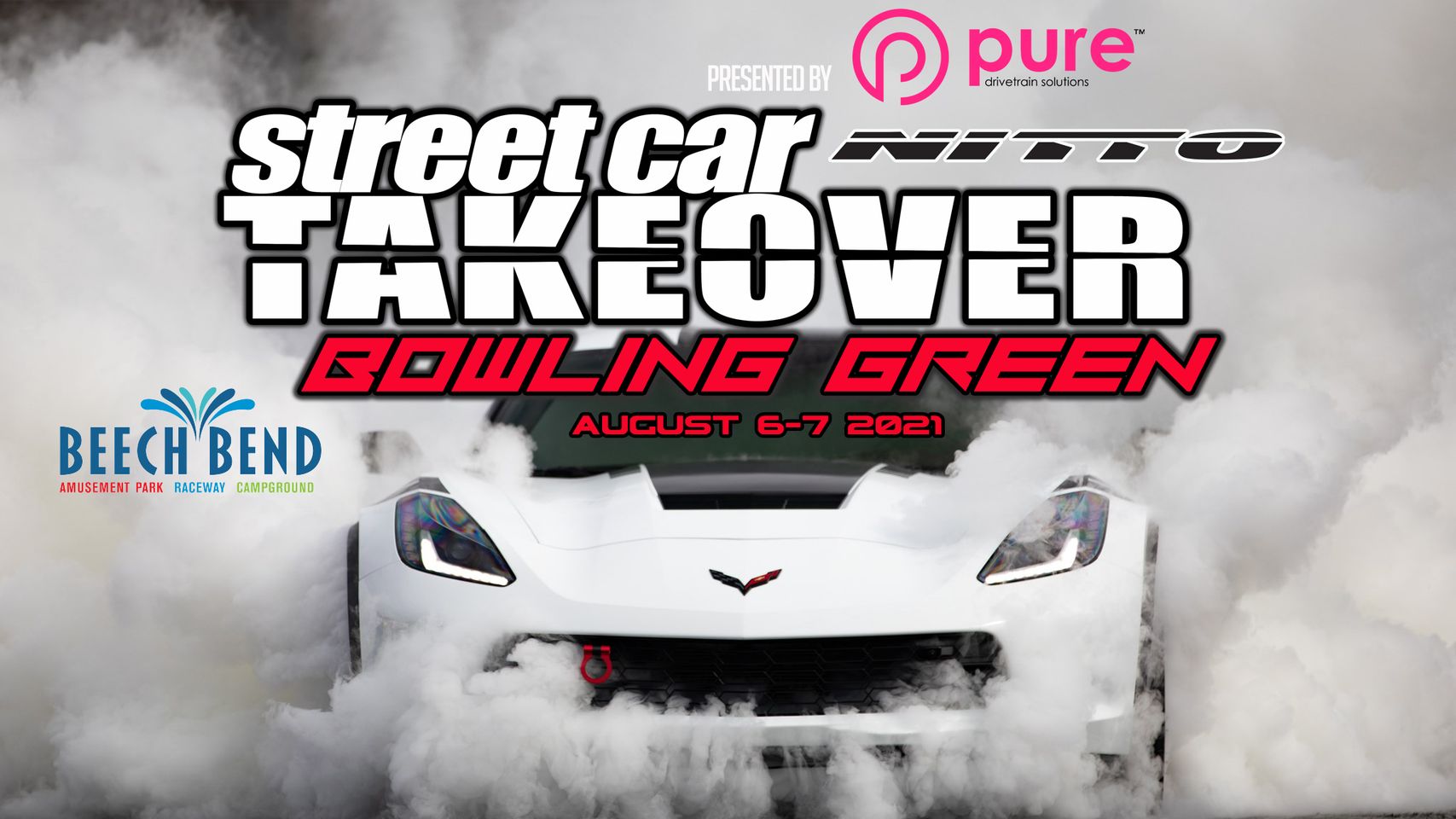 Street Car Takeover Bowling Green is coming August 6-7th 2021 mark your calendars! Night meet, roll racing and prepped drag racing. Over $15,000 in cash payouts!!!!
Full Schedule!!!
Friday August 6th 2020 Open Testing/NO PREP Race1/4 and 1/8th at Beech Bend Raceway
Gates open at 4:00pm for racers and 6:00pm for spectators
-$80 for weekend tech card or $50 for single day (Racers)
-$20 to spectate $35 for weekend pass (Sat-Sun)
-Kids 12 and under FREE
-Open test n tune for all racers.
-Tech open for Saturday racers
NO PREP RULES:
-Chip drawing, no qualifying
-No time on boards
-1/8th mile
-No Prep
-Water burnout only
-Instant green
-Split time slips
-No testing before eliminations
-Open grudge between rounds
-PRE-REGISTER FOR NO PREP CLASSES via www.thefoat.com
Questions: streetcartakeover@gmail.com
NO PREP DRIVERS MEETING & SCHEDULE
-7:00pm at the starting line
-1st round Eliminations 7:30pm
-Open Grudge between rounds
CLASSES:
-Small Tire 16 car field 275 radials or 28×10.5 no W's, no tube chassis or fiberglass/carbon fiber aftermarket bodies $100 buy in $3k payout winner and $200 runner up (min 16 cars)
-Street racer 16 car field Must be on dot stamped rear tires, tags, lights, completed interior, no tube chassis or aftermarket fiberglass or carbon fiber bodies $100 buy in $2k payout and $100 runner up (min 16 cars)
-Hard Tire, no Drag radials allowed, street cars only, $50 entry,
$1,250 guaranteed payout.
-Open Grudge/test n tune between rounds
Saturday August 8th: DRAG RACING, ROLL RACING CAR SHOW & DRIFTING
-Beech Bend
-Gates open at 9am for racers and 11am for spectators
-$20 single day spectator pass kids 12/under FREE
-$50 for tech card/test n tune, classes are extra
-$50 drifting tech card
-Show N Shine $30 Includes single day admission ticket
-Roll Racing 12:00pm-3:30pm
-Show N Shine 11am-5pm
-Drifting 12-6pm
-Drag Racing 4:00pm-10:00pm
-Burnout contest 3:30pm
RACERS:
-Drivers meeting for DRAG RACERS 4:00pm SHARP at SCT TRAILER
-Drag classes:
*Small tire
*Street Racer (requires cruise)
*Street Outlaw
*Monster Clutches Stick Shift class
*HP Tuners Street Racer Mild
*ADD Performance Heavyweight Class
*Truck/SUV
*Extreme Street 10.00 INDEX
*Daily Driver Extreme 11.00 INDEX
*Daily Driver Mild 12.00 INDEX
ROLL RACERS
-Drivers meeting for ROLL RACERS 12:00pm at STARTING LINE
-Roll classes:
*Test n Tune
*Daily Street Class 130mph cap
*Mild Street Class 140mph cap
*Modified Street Class 150mph cap
*King of The Bakery (unlimited street)
DRIFTERS
-$75 for drift tech card. Includes driver.
VIP Parking:
11am-5:00pm
-$30 per car includes driver.
Check our Facebook Event page for updates.  www.facebook.com/events/176326934349695