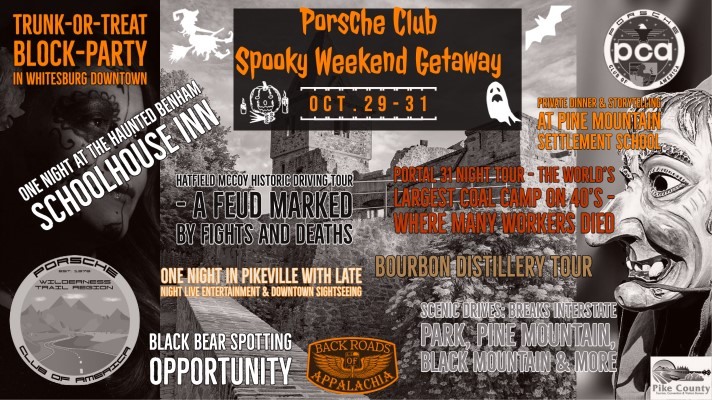 RSVP on WTRPCA.ORG
https://wtrpca.org/wp-content/uploads/2021/09/Early-Agenda-Routes-and-Planning.pdf
– First night staying at Benham Schoolhouse Inn: This School was built in 1926 on the site of a now relocated Church and Graveyard. The school closed in 1992 and then went through several businesses and owners until 2016 it was opened as the
current Inn. Numerous reports of lights turning on and off, doors slamming by unknown hands, running, laughter and disembodied voices of children in the hallways and a dark and ominous
feeling in the basement areas.
– Pine Mountain Settlement School
Friday: Private Dinner at the Pine Mountain Settlement School – A National Historic Landmark, founded in 1913 as a school for children in the commonwealth's remote southeastern mountains and a social center for surrounding communities. The school was the dream of a local man who was troubled by the area's lack of educational opportunities, and the prevalence of social problems and rampant disease. The Infirmary was the early center of health care and health education at the Pine Mountain Settlement School. Today the Infirmary serves as a guest house for visitors to the school and overflow for large school groups. The building has been re-named "Hill House" but some are slow to relinquish the building to this new designation and when asked, they would say it's "haunted" —reminded that hospitals are places where people sometimes die.
– Portal 31: We will go deep inside Portal 31, the town's Coal Mine that has claimed many lives and has ghostly reports almost daily! Underground Mine Tour will offer you the unique experience of touring an actual coal mine by rail car.
Portal 31 riding tours consist of riding a modified mantrip through the mine. It's 8 different stops. Each stop being a different period from 1919 to 1963, when Portal 31 closed for good. At each stop they will show you the different types and aspects of mining they did at that period in Portal 31. At the end of the tour, they will let everyone get off the mantrip and look around a little bit for about 10-15 minutes with all the lights on.
– Ghost Hunt at Benham Schoolhouse Inn: While the activity varies, almost all reported events involve the spirits of former students. The sounds of children laughing, playing, and talking are heard at all hours throughout the former school. Even the apparitions of children, dressed in the style of the 1920s, have been seen by the more sensitive visitors. Other reported incidents involve an apparition of a man carrying a suitcase, lights that dim by themselves, and a shower that turned on and soaked a guest. One theory presented as to why the school might be haunted came from a Harlan County local on a Topix post. This contributor, who went to school at the Benham School, claims that the building was erected over a cemetery where not all the bodies were removed. In fact, this contributor claims that an intact skeleton was unearthed and used in the school's anatomy classes to teach the skeletal system!
– Black Bear Spotting Opportunity
All weekend long… KY-160 (The Dragon Slayer) is full of bears! I have seen them occasionally when I drove there. If you check the Dragon Slayer KY160 Page on Facebook, they share every time a bear or a family of them are spotted. The only night I stayed at the Benham Schoolhouse Inn, I saw a black bear wandering very early in the morning, but they probably come out in the night too. During our club's weekend getaway, many of us saw a black bear when we were driving to Pineville Saturday afternoon, captured on camera
– Scenic Drives
If you drove on Eastern KY and thought it was beautiful, wait to do it when it is fall! I know it will be late in October, but there will be some beautiful colors still! (Free)
Saturday – October 30th, we will drive through the Black Mountain, Dragon Slayer and ride the River Dragon (oh yeah! You going to love that one)
Sunday – October 31st, the highlight of the day will be a fantastic drive through Breaks Interstate Park, Hayter's Gap. All of that after a driving tour through the Hatfield and McCoy feud.
– Bourbon Tasting and Distillery Tour: Kentucky Mist Moonshine is a craft distillery located in the Appalachian Mountains. Born from a deep heritage of distilling spirits in eastern Kentucky, Kentucky Mist takes pride in distilling every drop of alcohol used in our products and making flavored moonshine using whole fruit for the most genuine taste.
– Trunk-or-Treat Downtown Block-Party:
The city of Whitesburg will block a street to our club displaying our cars and the kids will come check our car and look for treats. DJ, Food Truck, Local Enforcement Support, Mayor, local vendors, and more are planned for that night
– Pikeville Downtown Night-Sightseeing
From Whitesburg Downtown Block Party, we will drive to Hampton Inn in Pikeville and check-in at the hotel. Downtown is one block away, bars, live music, entertainment, all walking distance.
– Hatfield & McCoy Feud Driving Tour: The Hatfields & McCoys Historic Feud Driving Tour is one of Eastern Kentucky's most popular attractions, with thousands of visitors each year exploring the sites where the most infamous feud took place. Visitors can see the Hog Trial Cabin, the McCoy Homeplace featuring the McCoy Well, the historic Pike County Courthouse where Cottontop was put on trial, the feudists graves, and much more.
Click below to enlarge for more info.