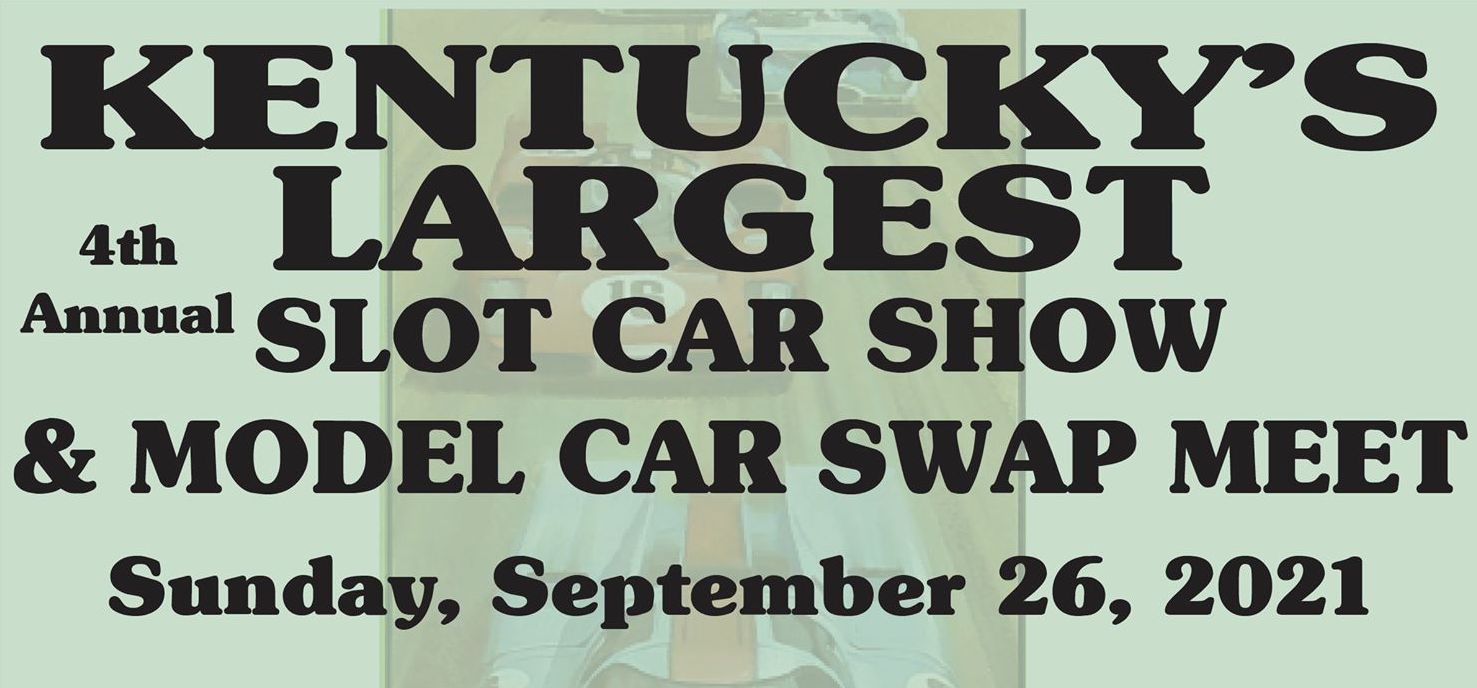 Okay folks, KENTUCKYS SLOT CAR SHOW and MODEL CAR SWAP MEET is STILL a GO!! It IS HAPPENING! Let me ALSO share something about our show that kinda sets it apart from many other shows, it's the nearby attractions, and the Show itself!
Let me START with the Nearby attractions,,, LISTEN CLOSELY! We are a Stones throw away from the BIGGEST Go Kart Track in the country, its called Kart Country, and it has its famous Go Kart track which by itself is AMAZING! More so, it ALSO has a Putt Putt Golf, a Water Bumper ride, a Batting cage,, and a HUGE ARCADE center to offer. Again this location is right beside our Slot car and Model car show! Still with me? GOOD!
We also have SEVERAL restaurants located just outside of the parking lot of our show, with lots of great food, VERY EASY to access! Fish, Hamburgers, Pizza, Tacos, YOU NAME IT,WE GOT IT!!
Another Fantastic attraction is the AWESOME FLEA MARKET located right beside Grandmas RV CAMPGROUNDS, which is located 1/2 mile from our show!! YEP, can you believe it! If your into bringing an RV or Camper, Grandmas RV Campgrounds is the place to be! Are you intrigued yet?
How about you Nature lovers? We have BERNHEIM Forrest just 4 miles down the road off of exit 112 from interstate 65. It's about a half mile off of the Interstate with VERY EASY Access,,, great for the Family to visit, or for a good Trail walk, YOU WILL LOVE IT! Still Intrigued,,,?
HOW ABOUT visiting the JIM BEAM Distillery? Thats right,, the Jim Beam distillery offers tours,,,,AND its just about a half mile further down from the BERNHEIM FORREST entrance!! Starting to sound good now right? Yea,,,,,,i thought so! Well,, these all may sound pretty good but still not quite enough to getcha to pull the trigger,,,,, okay,,,,, ,,,,,,,HOWABOUT if YOU could go to a ANTIQUE TOY MALL with REALLY COOL old TOYS AND COLLECTIBLES?
YEP,,,off of exit 121 from Interstate 65 you will find the Land of OZ,,,The END of the YELLOW BRICK ROAD,,,,,The SOUTH LOUISVILLE ANTIQUE and TOY MALL!!! HONEST,,It's a REAL THING!!! YOU,,,,WILL,,,,,BE,,,,,,,AMAZED!! They have EVERYTHING you EVER WANTED as a kid there! Isles and Isles of Toys! Yea,,,i KNEW that would getcha! OHHHHH,,,,Did i mention The BULLITT SPEEDWAY SLOT CAR TRACKS LOCATED RIGHT BESIDE THE TOY MALL??? Yea,, it's there too,,,CAN YOU BELIEVE IT?
Ladies and Gentleman,, this show that we put on once a year is a FANTASTIC show, with lots to offer every Slot car and Model car enthusiast with THOUSANDS of Slot cars and Model cars! Our show is slightly different from most with an Added theme there which we really love, and so far everyone else does too! This show TRUELY has a lot to offer, as well as the surrounding community. Please research, these areas of interests for Times, costs,availability,etc.
I just highlighted some of the nearby attractions, its up to you to research them. IF you do decide to come a day early or two early to enjoy the area, please know that on Saturday our show Hotel is ONLY $89.00 for the night! The cheapest in the area! And if you are looking to be a vendor here at our show please contact me ASAP as we are filling up FAST!
Steve, 270-312-7900
Click below to enlarge for details.