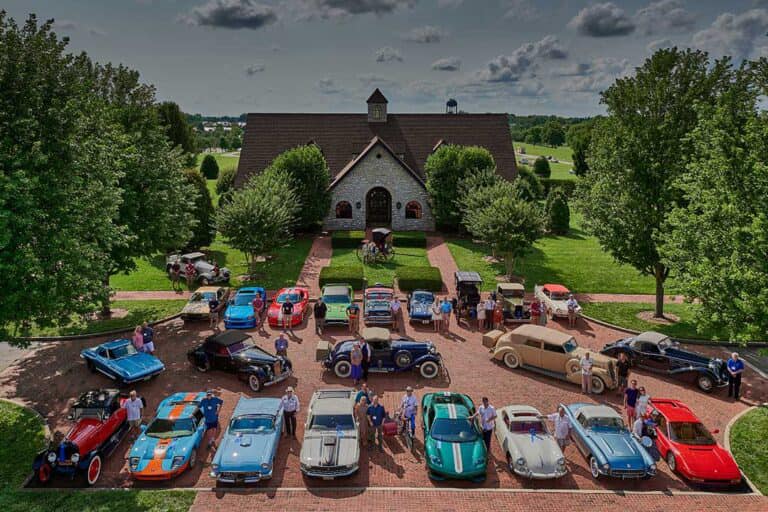 Keeneland Concours d'Elegance
Lexington, Kentucky
Saturday, July 16, 2022
On the third weekend of July, the annual Keeneland Concours d'Elegance will again be held at the beautiful Keeneland Race Course in Lexington, Kentucky. We will be showcasing the finest collector vehicles in the country from antiques to future classics. Automobiles and other unique types of vehicles will be judged for their historical accuracy, presentation and cleanliness. Each class winner and runner-up will receive an award.
The 2022 Concours will feature Porsche as our featured marque and will include four classes, Air Cooled, Water Cooled, "356" and Race Car.
In addition to the Concours vehicles, the Car Club Paddock has become an important element of our Concours as each club proudly displays their cars for spectators to enjoy. Last year's Paddock boasted over 14 different car clubs and approximately 425 members. If you are a member of a Car Club and are interested in participating, visit the Car Club Paddock page.
The Keenland Entertainment Center will be the sight of our unique silent auction. More information and items available are posted on the Silent Auction page.
Be sure to visit the Artists section of our website for more information regarding the nationally acclaimed artists who will be attending the Concours and displaying their art in the Keene Barn on the Day of Show.
Food, fashion, and music add to the festive atmosphere of the day!
EVENT DETAILS
Saturday, July 16, 2022
6:30 am – Field opens to entrants
9:00 am – Judging begins: field open to spectators
3:00 pm – Award ceremony
4:00 pm – Raffle Drawing of the 2022 Porsche 718 Cayman
4:30 pm – Show concludes
•Day of Show gate admission is $25 per person.
•The advance / prepaid web site pricing – "Will Call" admission is $20/ person.
•Under 12 admitted free
•Active Military in uniform admitted free. Thank you for your service!
•ALL online purchases are now paperless. Please have your "PAID RECEIPT" from your email, ready on a digital device or a paper copy to show as you come through the gate. There will also be a "Will Call" list and a dedicated "Will Call" person for your convenience if your receipt is not available.
•Your pre-paid or Gate Admission ticket includes free general spectator parking or handicapped-accessible parking. In the handicapped-accessible lot there will be two Golf Cart Shuttles available for transport to and from the show field.
•Use Gate 1 onto the Keeneland grounds from US 60.
•For Car Clubs or ANY Sports, Exotic, or FUN CARS, premium close-in parking is available in the Paddock for $5 per car. Non-Club members are also welcome to show their cars in the Paddock.
•Limited premium/VIP close-in parking is available for an additional $20.
$15 Collector's event programs will be available at the show.