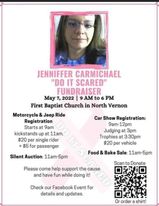 This event is to assist four sisters, teen to five years old, who lost their single parent mother earlier this year.
Jenniffer Carmicheal cared for her children as any loving mother would do.  But had to act as loving father, breadwinner, housekeeper, home school teacher confident and family nurse.  All the things we expect a loving family to be.  Only a single parent can tell you any of that, plus the love they share to gather.   But these girls have lost all that overnight.
There is a lot a gear head can do, but together  Gear Heads are a force that can help while doing what they do best, meet new people a talk CARS, Bikes, Trucks. So come to North Vernon IN. in May.
If there are any questions contact buckandbev@gmail.com