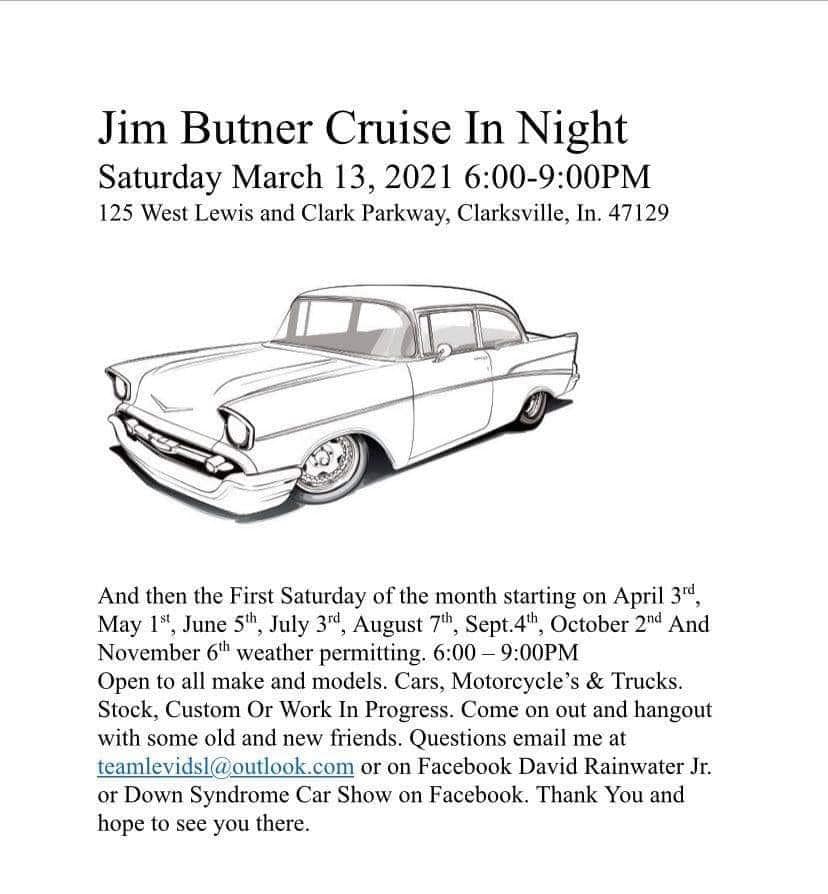 Saturday August 7th 6-9 pm Jim Butner Auto Group Cruise in 125 West Lewis and Clark Parkway Clarksville , Indiana 47129
we Understand it's Street Rod Nationals Weekend but hopefully we can get some sweet Street rods to come hang out .
So since it's a big weekend we are going to do a BURNOUT BOX . ( controlled 45 seconds ) along with food trucks.
This is a free event
First 50 vehicles will receive a dash plaque and as always the top pick of the night will be on next months dash plaque as well as receive a trophy as well as a trophy for the top burnout .
So bring those rides out .
We are planning on making this a yearly event.
6-9PM
Open to all makes and models.  Cars,  Motorcycles and Trucks.
Stock, Custom, or Work in Progress.
Come on out and hang out with some old and new friends.
Email any questions to teamlevidsl@outlook.com or on Facebook David Rainwater Jr. or Down Syndrome Car Show on Facebook.
Thank you and hope to see you there!
Click below to enlarge for details.