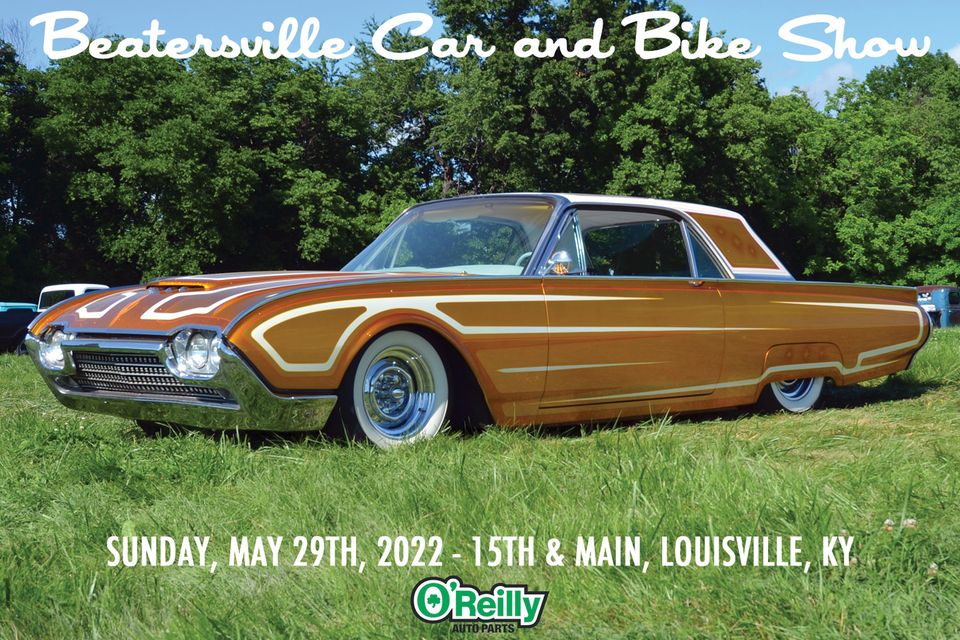 Beatersville Car and Bike Show is a traditional rod and custom show that features, 1968 and older, cars, and, trucks from all over the mid-west.
Our 17th annual event will take place on Sunday, May 29th, 2022 in the Warehouse District at 15th and Main Street in Louisville, Kentucky.
The show will feature bands, vendors, the ever-popular, Miss Beatersville contest, food trucks, cash bar, and much more. The charity panel jam and auction will take place again this year hosted by our friends the Louisville Paint Slingers.
Additional info including online registration can be found on our site, www.beatersville.com.
Bands – Vendors – Miss Beatersville Contest – Food Trucks – and a heck ton of hot rods!
Early Registration opens on 2/2/22 on www.beatersville.com
Other important dates,
Wednesday, February 2nd, Early Registration opens.
Friday, April 1st, Miss Beatersville registration opens.
Friday, April 29th, Miss Beatersville online registration closes.
Friday, May 6th, Miss Beatersville voting begins.
Friday, May 20th, Late Registration opens.
Friday, May 27th, Miss Beatersville online voting ends.
Sunday, May 29th, The 17th Annual Beatersville Car and Bike Show in the Warehouse District, Louisville, Kentucky at 15th and Main St.
For more info, email info@beatersville.com or 502-345-9396
The front gate will be at 1501 W. Main Street, Louisville, KY.
The Main Stage will be hosted @Portal at Fifteentwelve Creative Compound, 1512 Portland Ave.
General Admission is ONLY available at the gate day of the show.
https://www.facebook.com/events/2691813624446281