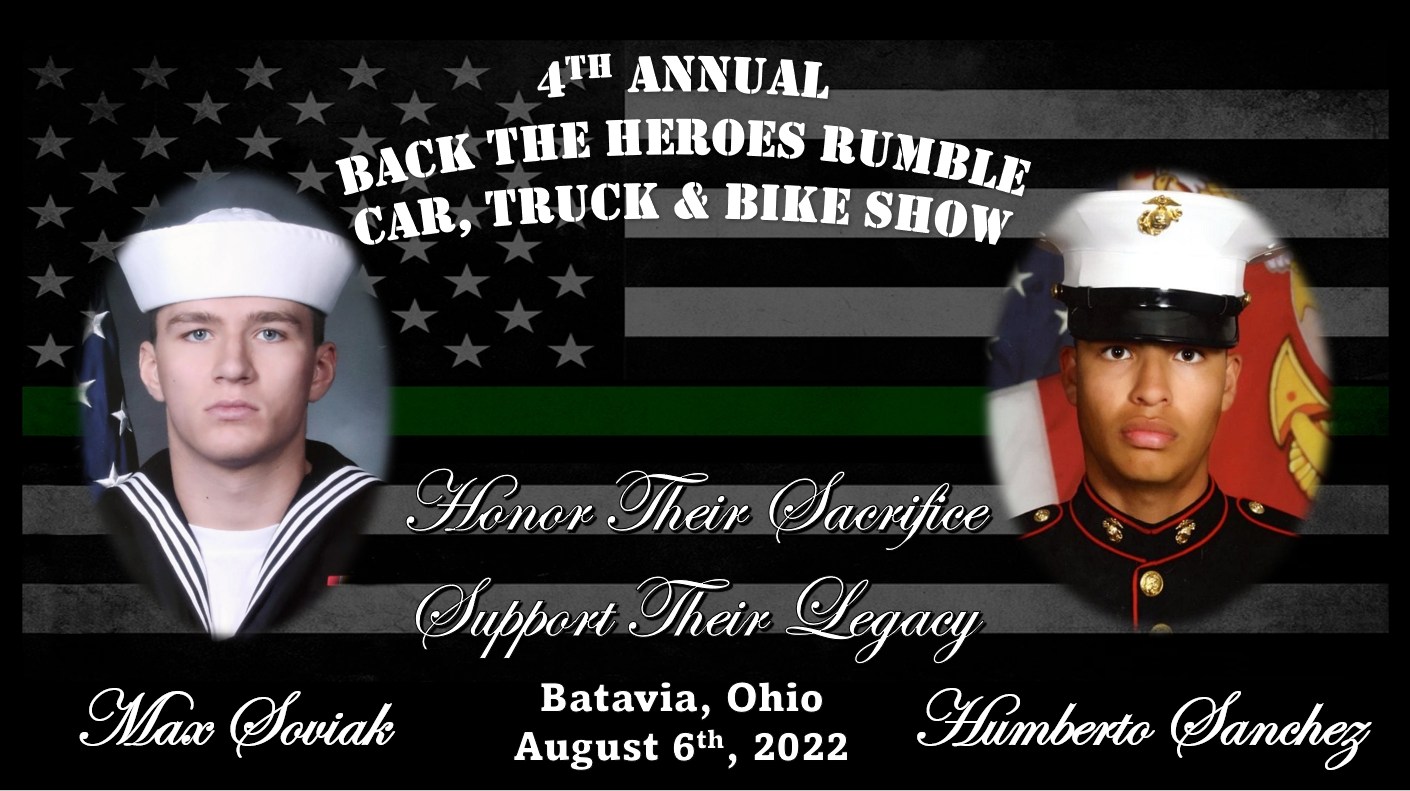 Honoring Fallen Heroes U.S Marine Corporal Humberto Sanchez & U.S Navy HM3 Maxton Soviak.
All proceeds will be given to their families that will be in attendance.
Spectators get in FREE
Entry Fee – $15/car
FREE T-shirt to Pre-registered entrants prior to July 1st.
Open to any vehicle – INCLUDING Motorcycles
Where: 1535 Clough Pike, Batavia OH 45103 – Batavia Township Park
When: Saturday August 6th, 2022
(Rain Date: Sunday August 7th, 2022)
What: Classic Style Judged Car Show with some of the best looking trophies you could receive at any car show. Concourse quality judges will be adjudicating the show
WW2 Warbird Fly Over during the show!!
J.D Hughes from WGRR and On the Air Entertainment will be our DJ
We will have LIVE music performed as well!
Event Timeline as follows:
9am – 1145am : Registration
12pm – 2pm : Judging & Selection
3pm – End : Awards/Raffle Giveaway
There will be food, music, high value raffles plus more!
Cincinnati Reds HOF/Museum will be playing a baseball game for kids and families to enjoy attending during the show ALL FREE!
$1 kids hotdogs and $5 kids meals
courtesy of Bullard BBQ (Hotdog, Chips, Drink)
Kid friendly and Pet Friendly event!
Gift Cards will be given as door prizes ($25.00 value or higher)
Split the Pot raffle will be done as well
T-shirts will be available on site and also given to the first 100 registered.
Dash plaques and goodie bags for first 200 that arrive at registration. There will be over 60 trophies up for grabs including Car Club Convoy of Show!